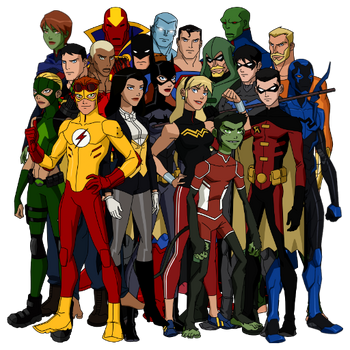 Welcome to Young Justice Fanon Wiki!
The wiki of fan invention that can be edited by anyone!
Please navigate through the directories below to see the latest site news and others updates.
Typhon
, known by his Martian name as
S'aam'el M'onzz
and by his adopted Earth name as
Samuel Mons
, is a Martian who had come to Earth after his family had perished. Serving as sidekick of Martian Manhunter some time after Miss Martian, Typhon would eventually have a falling out with his mentor over the ethics of heroism, and would become a standalone anti-hero within Dallas, Texas.
Main article: Typhon
Young Justice Fanon Wiki
was formed in 2015 by
Wolfthorn
after he left his original site,
Young Justice Legacy Wiki
, to pursue other ventures. A site of
fan-invention
based in the
Young Justice
universe, this site serves to allow any and all users to create a character of their choice and to forge their own tale. Here, users are encouraged to collaborate with one another and engage in what are known as a roleplays; where fan fiction writers can write stories together, pit characters against each other in fights, and even do comedy skits. Users are also encouraged to get to know each other, make friends, and communicate with each other via the Message Walls provided by Wikia to promote a friendly writing environment, as well as allowing them to collect feedback for their works. Our goal is constant improvement in quality to become the best
Young Justice
fansite on the internet!
How upset were you when Cartoon Network canceled Young Justice?